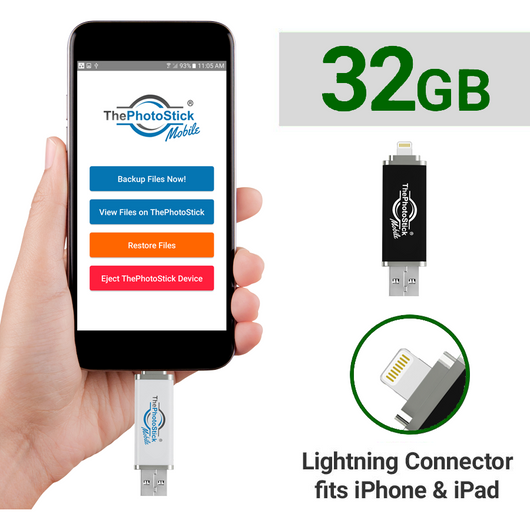 ThePhotoStick® Mobile 2.0 for iPhone and iPad (32GB)
Regular price $139.99 $79.99 Sale
Missing shots because your iPhone or iPad is full? Want to transfer your photos from your phone or view them on your computer? Tired of paying for cloud storage or worried about its privacy?
ThePhotoStick® Mobile 2.0 for iPhone and iPad is the simple and inexpensive solution to back up photos and videos on your Apple device and free up space by safely remove them.
With just one click, ThePhotoStick® Mobile 2.0 automatically finds and backs up photos and videos on your iPhone, iPad, or iPod Touch.
Photos and videos are stored securely on ThePhotoStick® Mobile 2.0 device, not on the cloud. Eliminates cloud privacy concerns and storage fees!
The 32GB capacity is enough to store over 5,000 standard-sized photos and videos! Backup all the iPhone and iPads you own.
Once photos are backed up on ThePhotoStick® Mobile 2.0, simply connect the other end of the device to your computer's USB port to copy or transfer photos.
Free Worldwide Shipping plus 30-Day Money Back Guarantee!
Compatible with iPhone, iPad, and iPod Touch running iOS version 11.3 and later. Requires free ThePhotoStick® app from The App Store. Supports USB 3.0 transfer speeds.
Backup of photos or videos stored on iCloud NOT supported.